Studio K2 Ramblings
Nature's Herbs and Wellness Center in Milliken, CO is Complete!
At last, this barn-style dispensary and laboratory in Milliken, CO is finally complete! Our firm had the pleasure of designing Nature's Herbs and Wellness Center's newest store. Nature's Herbs and Wellness Center provides for numerous recreational and medicinal needs supplying pre-rolled joints, topicals, extracts, and edibles. 
This facility integrates into the local architectural context of the area while adding a modern flair and connection to nature with exposed beams and wood finishes, and abundant natural lighting. This space redefines the typical shopping experience through an inviting and engaging environment. Glass floor-mounted windows in the dispensary create an educational focus and product transparency.
From Concept to Completion

West Elevation

South Elevation
Warm A Heart for Covid Patients and Healthcare Workers
Every year at SK2, we look forward to participating in Warm a Heart, a charity event for different causes yearly that calls upon local designers to create gifts for people in need. This year, COVID-19 changed our usual expectations for our yearly crafting event! Due to the pandemic, Warm a Heart requested participants to decorate and write cards for Denver Health's staff, patients, and families.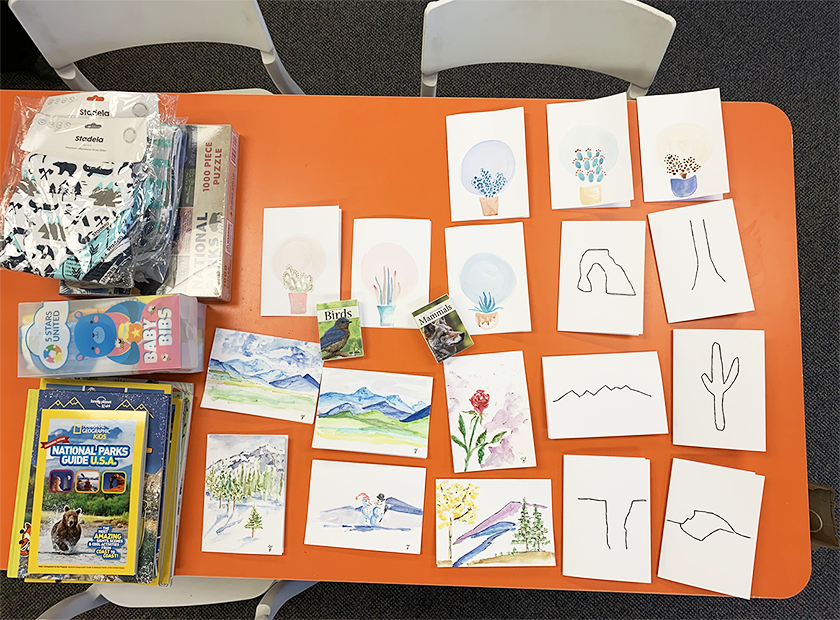 For our decorating theme, we decided to focus on landscapes, plants, and national parks. Kevin used his skills in watercolor painting to paint beautiful vistas of the mountains, trees, and flowers inspired by a ranch that he used to work on in New Mexico. Geneva also used watercolor to paint potted plants with different varieties and color themes. Kasey decided to use stitching with black thread to show popular natural icons from national parks. These cards are meant to inspire a sense of adventure and an appreciation for the outdoors during the challenges of being stuck inside due to COVID-19. We cant wait to participate again next year!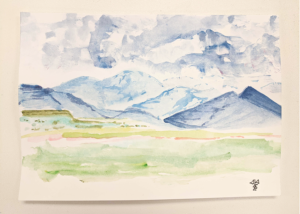 A New Mexico Mountain Landscape by Kevin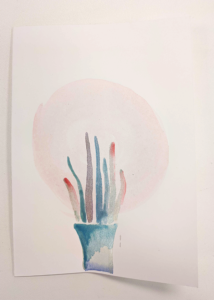 A Snake Plant by Geneva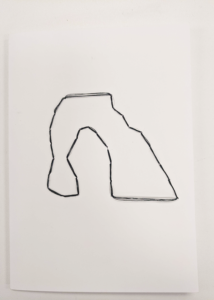 Delicate Arch by Kasey
Geneva Kowalski Shares Camper Project for Colorado Creatives
SK2 Architect, Geneva Kowalski, filmed a short video for Colorado Creatives on her creative inspirations that she encounters while biking through the city for her daily commute pre-Covid. Covid has changed many of our ways of life and one project that Geneva used to channel her creative energy during the beginning of lockdown in Colorado was renovating her travel camper in March through May. This renovation featured updated cabinets, plumbing hardware, and privacy screens. Watch below to find out more.  
Geneva Kowalski to Speak at Denver Design Week!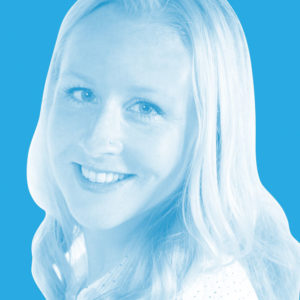 Studio K2's Senior Architect and Executive Chair of Women in Design, Geneva Kowalski, will be a speaker in Denver's 5th Annual Denver Design Week Session. Geneva's session will be part of a three-part series, "Three Keys to Collaborative Design Builds from a Distance", focused on balancing working collectively on design projects while communicating remotely as well as which strategies help to do so effectively. G, as she is affectionately called in the SK2 office, will be speaking on using online tools to coordinate tasks as well as integrating movement into communication with designers, consultants, and clients to produce great design. 
This year the presentations and panel discussions will be available for online streaming. Geneva's video series as well as 25 others on subjects relevant to current design issues and modalities will be available from October 19th to October 23rd. Tickets are available for purchase here.
Construction Underway at the Milliken Dispensary and Extraction Facility!
Exciting news! After several months of construction, our dispensary-extraction lab project in Milliken, CO is nearing completion! Considering the impact that Covid-19 has had on the economy and the construction industry, we are especially pleased to see our project come to fruition. Construction initially began in February for this contemporary, timber-framed building. It's 8,500 SF of retail space, lab, commercial kitchen, glass floor openings, as well as it's striking silhouette, will be sure to create an engaging, new experience for cannabis enthusiasts. We are anticipating seeing the project to be completed soon!
Interior
SK2 Staying Connected During Covid-19
An update for clients and friends: the studio (remotely for now) is open and as busy as ever! Since late March, the studio has transitioned to working remotely in an effort to keep our employees safe and to comply with Colorado's Stay-at-Home order. In the meantime, we have closed our brick and mortor location, but we are still accepting mail at our building. However, soon our building will be re-opening to allow for our office to be open at half capacity with masks. In the meantime, we have been staying connected with group video chats for meetings and office happy hours. Below are photos from a very important meeting that could not have been complete without hats.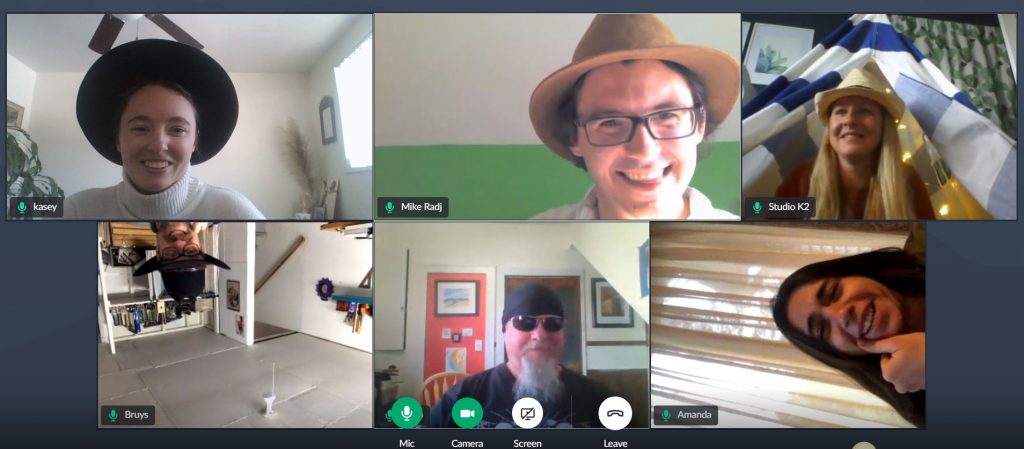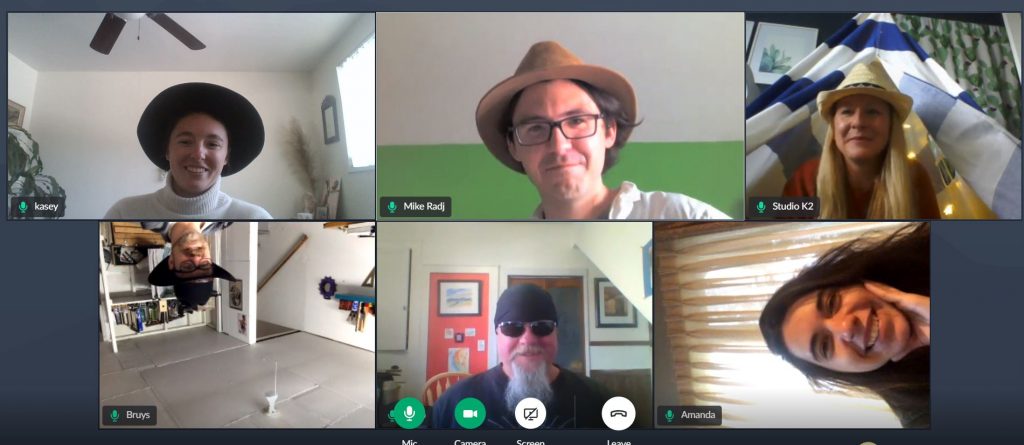 Happy Holidays from your friends at SK2 Architecture!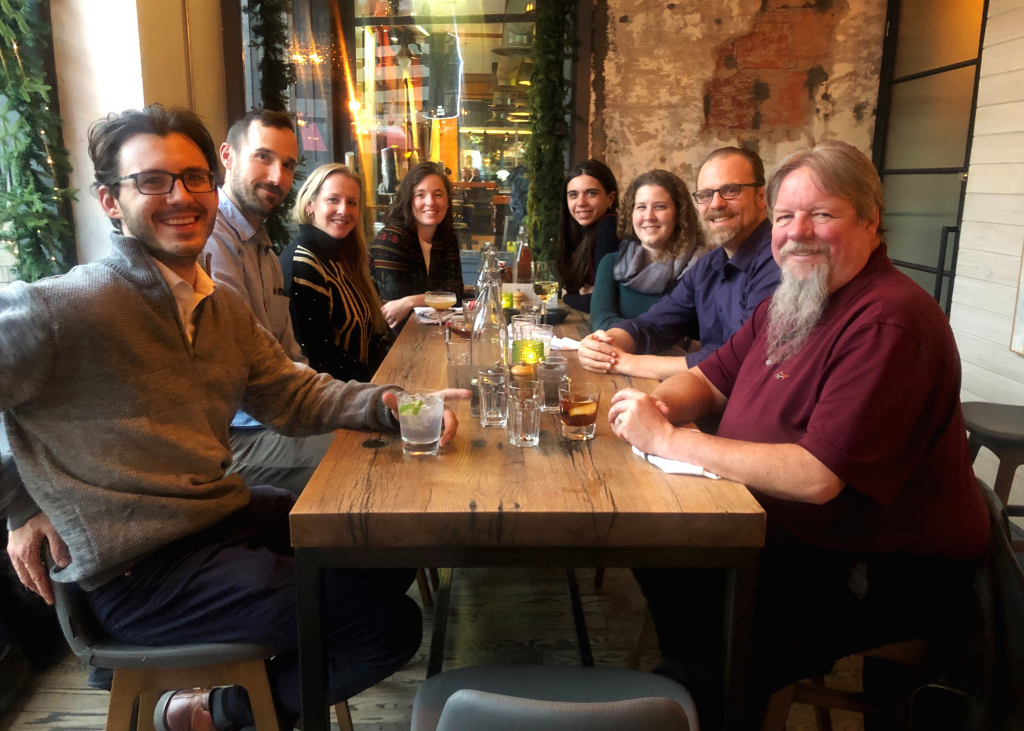 SK2 Donates to Warm-A-Heart 2019 Charity Drive
This year for Denver's Warm-a-Heart Showcase, the office contributed two bags filled with gifts for Denver Health's Community Cancer Resource Center which is supporting women combating breast cancer. Our bags were filled with cozy socks, warm blankets, adult coloring books, headbands, bath bombs, and other objects meant for soothing relaxation. 

Bags by Geneva and Kasey and by Kevin and Amanda
Members of the office took opposite sides of bags and painted them for the showcase. Geneva and Kasey decorated one bag with acrylic paints using abstract shapes in deep blues. Amanda and Kevin decorated either side of their bag with images of famous houses in Denver. Kevin painted the Molly Brown House and Amanda painted the Sleeper House. 
Everyone in the office appreciates the opportunity to contribute to this good cause and see the creations of other local offices.
The Office Rises to New Heights with Standing Desks

In progress
New developments are happening this month at SK2 with the arrival of some beautiful new standing desks from Varidesk company. Our office had been previously furnished with antique steel case desks from the 1950s. We love our metal desks which brought color and character to the office but are ready to evolve and adapt. The standing desks promote better posture, longevity, and ergonomic comfort. The firm has worked to integrate old and new to increase functionality in the office.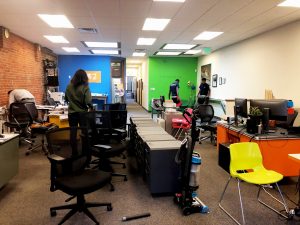 https://www.varidesk.com/
The desks are not only comfortable, but space efficient. With each desk comes storage for wires and organizational methods for cords. The desks also have an electronic component allowing them to move up and down. We rearranged the desks, replacing side tables with our original desks. The overall effect has increased space efficiency and order, improving morale and comfort in our workspace.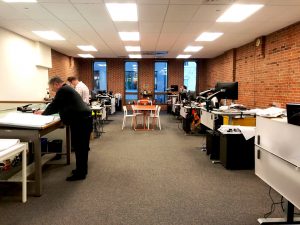 Final Result
SK2 Intern Kasey King Builds Cabins
At SK2, we are proud of our interns and the talent that they bring to our team. One, in particular, Kasey King, a master's student in the CU Denver architecture department that joined the team in August of last year deserves recognition. She built a cabin with classmates this past semester as part of her Master of Architecture program at the University of Colorado Denver. The design-build program was organized by Colorado Building Workshop: (http://coloradobuildingworkshop.cudenvercap.org).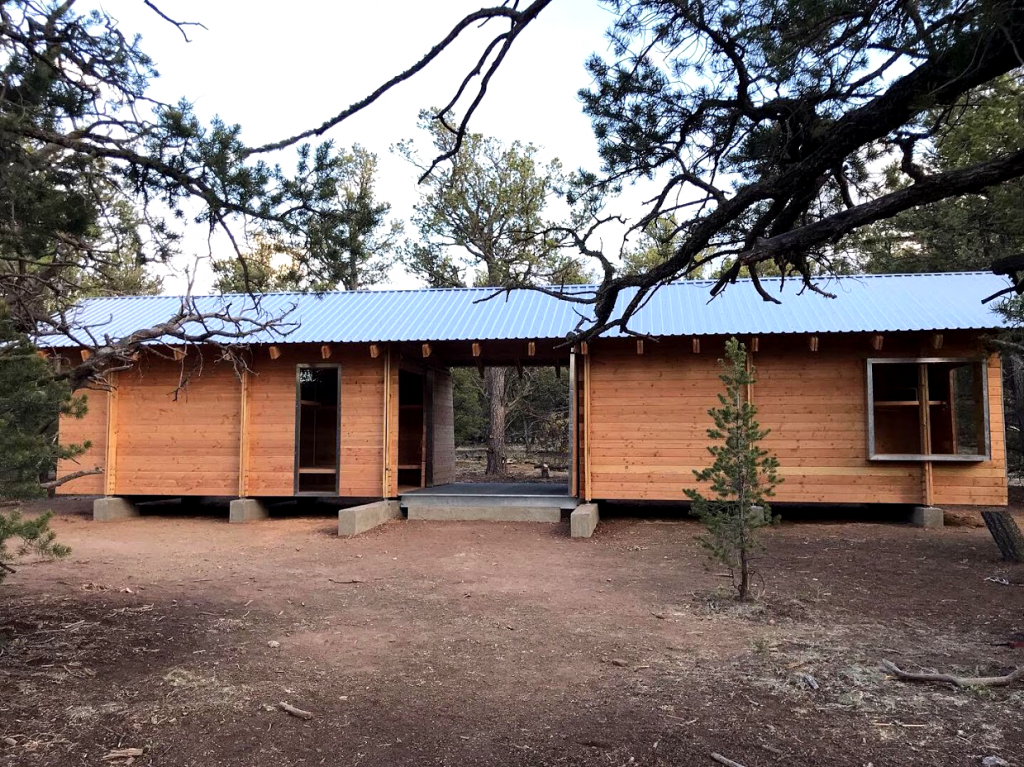 North facade of the cabin (photo by Morgan Young)
Kasey and her studio spent January through May designing and preparing for the summer build. From mid-May to early June, Kasey was in Thoreau, New Mexico building cabins and physically constructing the building with her classmates. The cabins were built for an outdoor expedition summer camp which is expanding and needed more places for campers to sleep before and after trekking in the hot New Mexico sun. During this time, Kasey was MIA in the office, but thankfully she returned unscathed in mid-June after brushes with sun exposure, downpours, and moths. 

Kasey ready for anything (photo by Kasey King)
Her class was given multiple sites to choose from. Each site had a team of 8 people working on a grouping of 2 cabins conjoined by a central gathering porch. At the end of March, the students spent a week pouring the foundations and mid-May to early June completing the cabins. The students were camping during the build, which made for a fun experience. The cabins structure was made of Douglas Fir wood columns and beams and Douglas fir tongue and groove for the walls and floors. The interiors of the cabins feature bunk beds suspended from rods, to help mitigate the hantavirus problem prevalent in the region. The cabins feature other materials such as a galvalume corrugated roof, aluminum features on the windows and doors, and steel in the bent frames. The cabin Kasey was a part of featured a bar shape design with a central porch and views to adjacent trees and the forest. Kasey enjoyed the experience and gives praise to the program.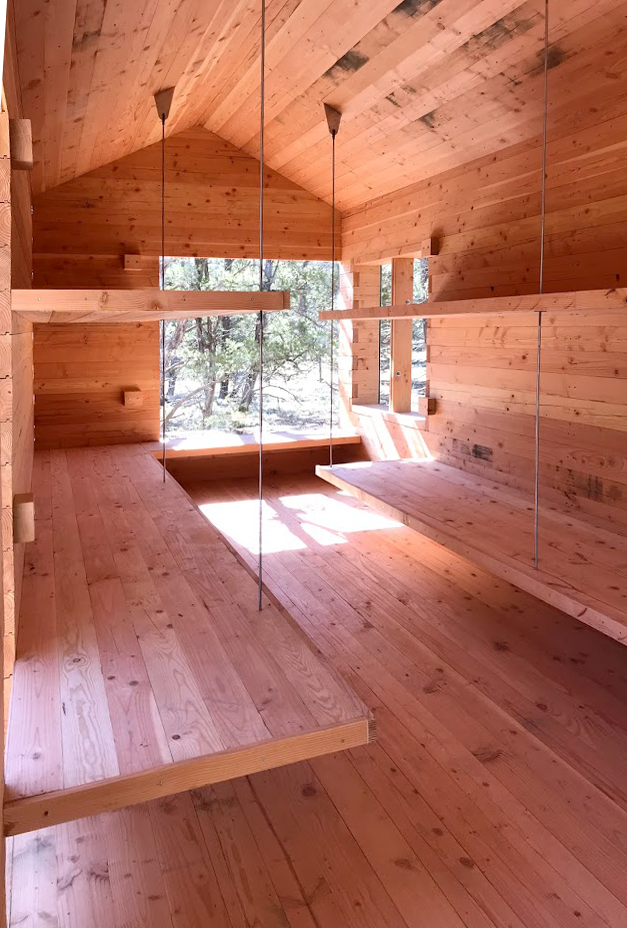 North facade of the cabin (photo by Morgan Young)
More images can be found at: http://coloradobuildingworkshop.cudenvercap.org/portfolio-item/turquoise-trail-cabins-2019/