In progress
New developments are happening this month at SK2 with the arrival of some beautiful new standing desks from Varidesk company. Our office had been previously furnished with antique steel case desks from the 1950s. We love our metal desks which brought color and charachter to the office, but are ready to evolve and adapt. The standing desks promote better posture, longevity, and ergonomic comfort. The firm has worked to integrate old and new to increase funtionality in the office.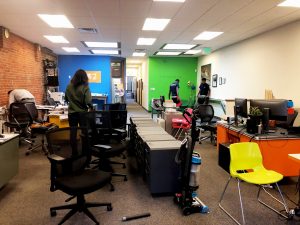 https://www.varidesk.com/
The desks are not only comfortable, but space efficient. With each desk comes storage for wires and organizational methods for cords. The desks also have an electronic component allowing them to move up and down. We rearranged the desks, replaceing side tables with our original desks. The overall effect has increased space efficiency and order, improving morale and comfort in our workspace.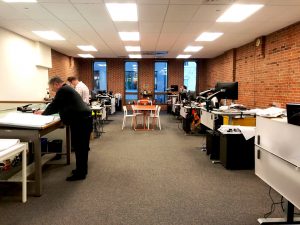 Final Result