Studio K2 Ramblings
Happy Holidays from your friends at SK2 Architecture!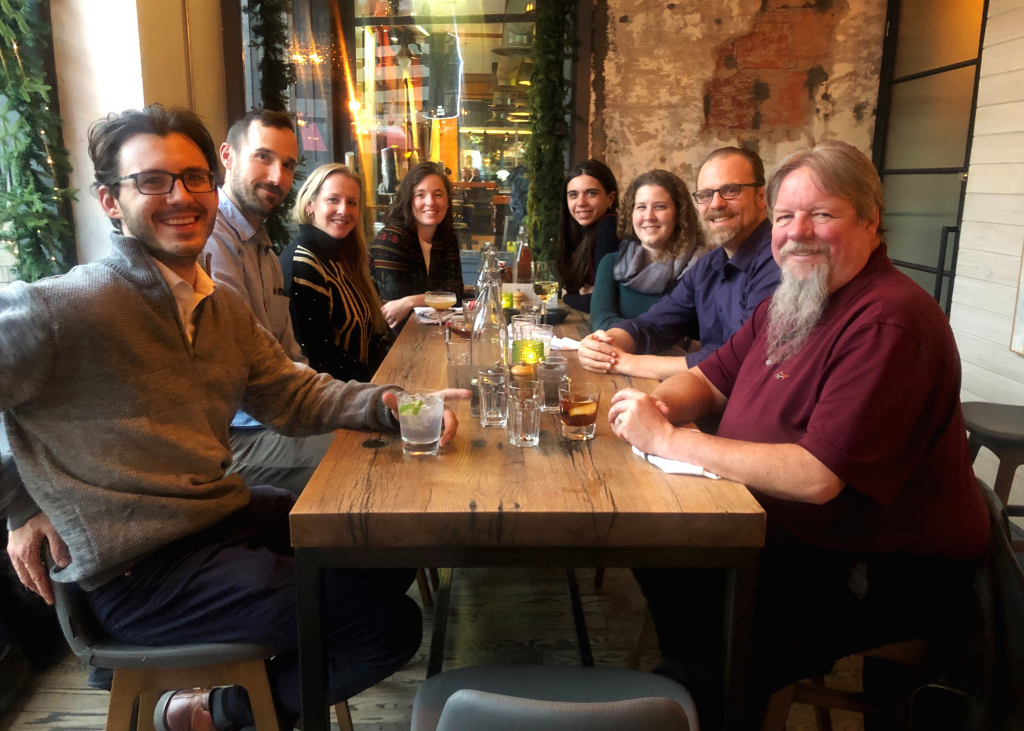 SK2 Donates to Warm-A-Heart 2019 Charity Drive
This year for Denver's Warm-a-Heart Showcase, the office contributed two bags filled with gifts for Denver Health's Community Cancer Resource Center which is supporting women combating breast cancer. Our bags were filled with cozy socks, warm blankets, adult coloring books, headbands, bath bombs, and other objects meant for soothing relaxation. 

Bags by Geneva and Kasey and by Kevin and Amanda
Members of the office took opposite sides of bags and painted them for the showcase. Geneva and Kasey decorated one bag with acrylic paints using abstract shapes in deep blues. Amanda and Kevin decorated either side of their bag with images of famous houses in Denver. Kevin painted the Molly Brown House and Amanda painted the Sleeper House. 
Everyone in the office appreciates the opportunity to contribute to this good cause and see the creations of other local offices.
The Office Rises to New Heights with Standing Desks

In progress
New developments are happening this month at SK2 with the arrival of some beautiful new standing desks from Varidesk company. Our office had been previously furnished with antique steel case desks from the 1950s. We love our metal desks which brought color and character to the office but are ready to evolve and adapt. The standing desks promote better posture, longevity, and ergonomic comfort. The firm has worked to integrate old and new to increase functionality in the office.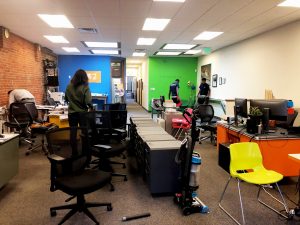 https://www.varidesk.com/
The desks are not only comfortable, but space efficient. With each desk comes storage for wires and organizational methods for cords. The desks also have an electronic component allowing them to move up and down. We rearranged the desks, replacing side tables with our original desks. The overall effect has increased space efficiency and order, improving morale and comfort in our workspace.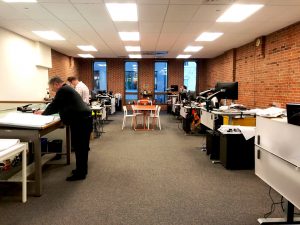 Final Result
SK2 Intern Builds Cabins
At SK2, we are proud of our interns and the talent that they bring to our team. One, in particular, Kasey King, a master's student in the CU Denver architecture department that joined the team in August of last year deserves recognition. She built a cabin with classmates this past semester as part of her Master of Architecture program at the University of Colorado Denver. The design-build program was organized by Colorado Building Workshop: (http://coloradobuildingworkshop.cudenvercap.org).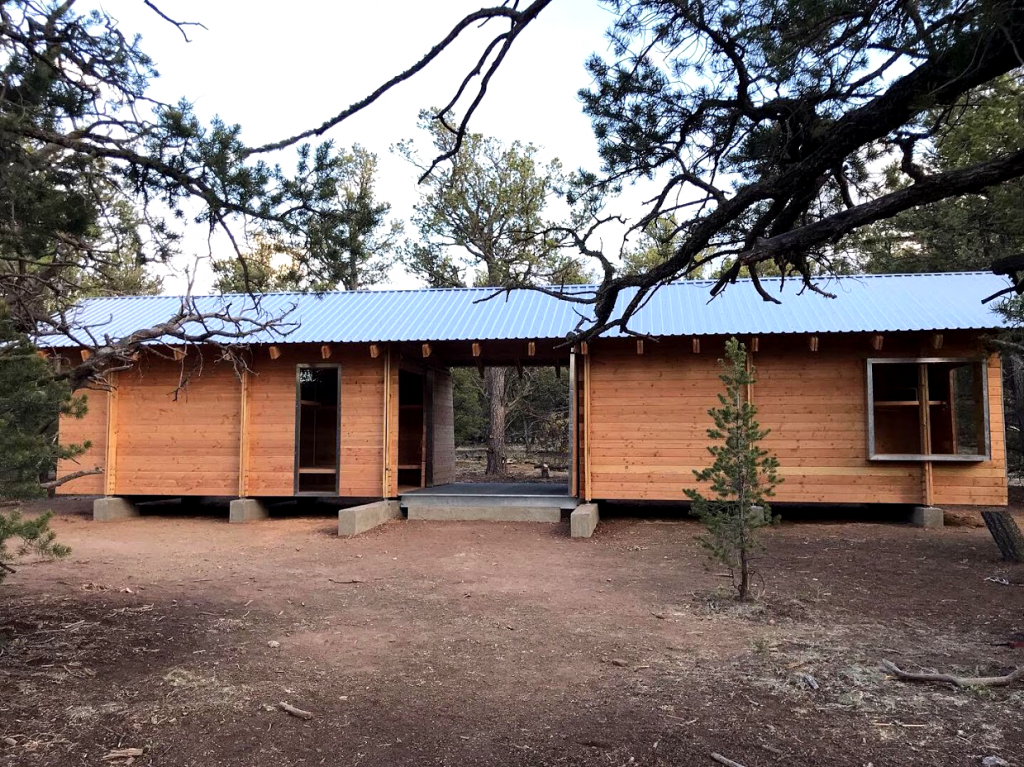 North facade of the cabin (photo by Morgan Young)
Kasey and her studio spent January through May designing and preparing for the summer build. From mid-May to early June, Kasey was in Thoreau, New Mexico building cabins and physically constructing the building with her classmates. The cabins were built for an outdoor expedition summer camp which is expanding and needed more places for campers to sleep before and after trekking in the hot New Mexico sun. During this time, Kasey was MIA in the office, but thankfully she returned unscathed in mid-June after brushes with sun exposure, downpours, and moths. 

Kasey ready for anything (photo by Kasey King)
Her class was given multiple sites to choose from. Each site had a team of 8 people working on a grouping of 2 cabins conjoined by a central gathering porch. At the end of March, the students spent a week pouring the foundations and mid-May to early June completing the cabins. The students were camping during the build, which made for a fun experience. The cabins structure was made of Douglas Fir wood columns and beams and Douglas fir tongue and groove for the walls and floors. The interiors of the cabins feature bunk beds suspended from rods, to help mitigate the hantavirus problem prevalent in the region. The cabins feature other materials such as a galvalume corrugated roof, aluminum features on the windows and doors, and steel in the bent frames. The cabin Kasey was a part of featured a bar shape design with a central porch and views to adjacent trees and the forest. Kasey enjoyed the experience and gives praise to the program.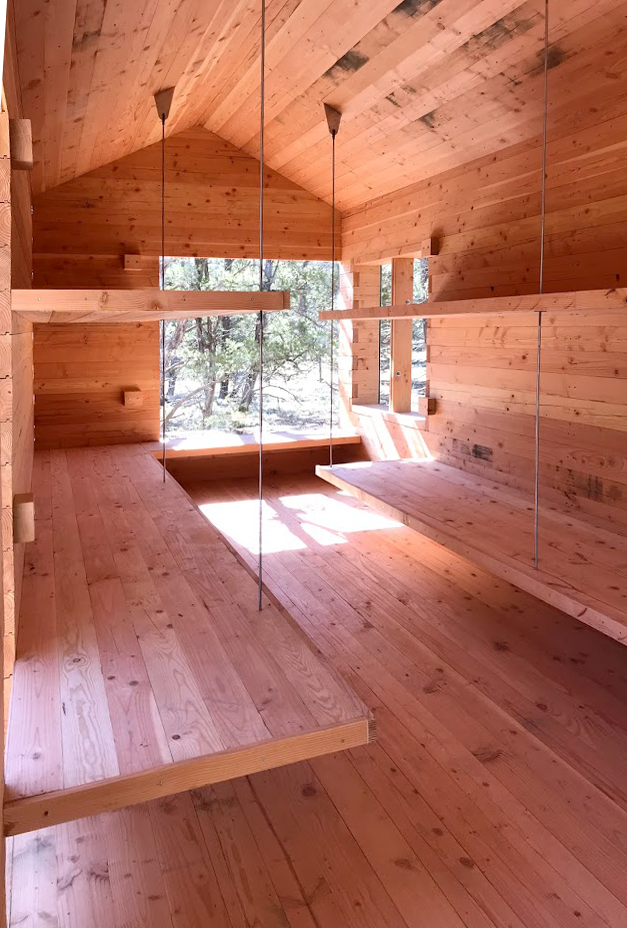 North facade of the cabin (photo by Morgan Young)
More images can be found at: http://coloradobuildingworkshop.cudenvercap.org/portfolio-item/turquoise-trail-cabins-2019/
Making Waves in Nola for a Cannabis Convention
The growth of the Cannabis industry will have global implications for decades to come. From labs to dispensaries to grow facilities, SK2 is constantly expanding our knowledge of this building type. As state after state legalizes the medicinal and recreational use of cannabinoids we are always looking for ways to make ourselves available to opportunities for fruitful partnerships.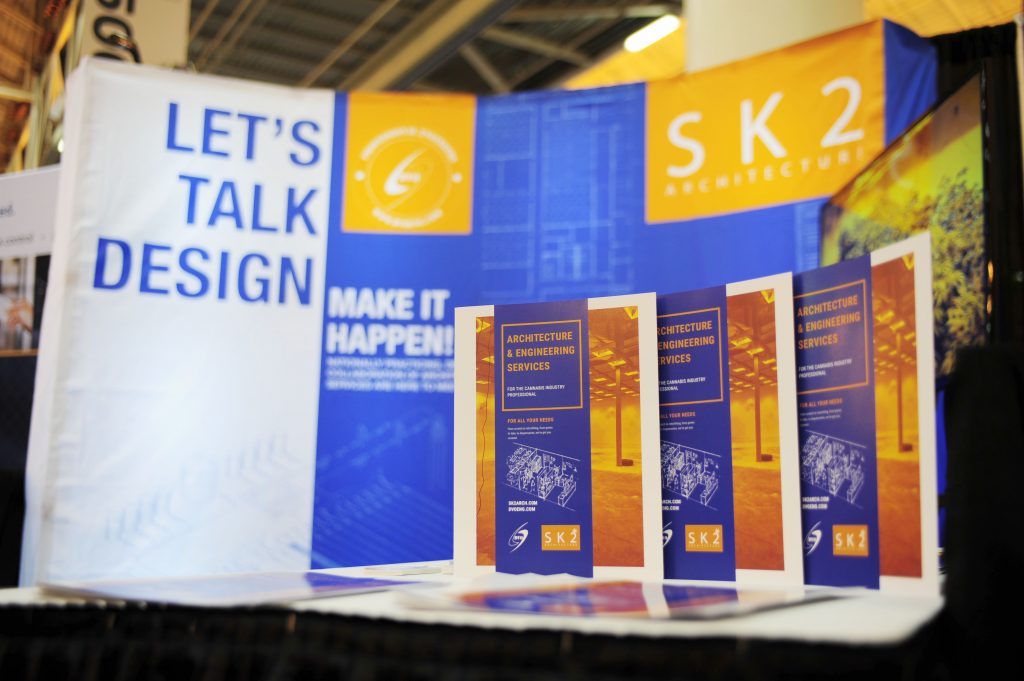 The backdrop and brochure were designed in house by one of our resident designers, Amanda Schoene.
Cannabis Is A Burgeoning Industry and SK2 is At The Forefront
Our resident Cannabis experts, Bruys Henderson and Mike Radjenovic made their way to a 3-day conference in New Orleans,  MJBizConNEXT, where they made new connections, networked, and also wolfed down delicious, fluffy beignets. They talked with potential clients along with our partners at DVO Engineering. 
Source: mjbizconference.com
New Orleans, What A Town!
The fun didn't stop after the booth touring ended. It kept going into the night where Bruys inevitably found Mike grooving to a live brass band where his moves spurred the some of the crowd to join in. Amanda may have laughed at his antics after the fact and as revenge, he challenged Amanda to a dance-off with the DVO office. They were kind enough to bring many presents for the team at home in Denver, including adorable stuffed marijuana leaf toys for our desks.
Please enjoy some of Mike's fabulous moves:
Art Back into Architecture: Union Station| Kevin Returns from Mexico!
It's starting to feel a lot like springtime at SK2! To celebrate, the team decided to enjoy the nice weather with a cocktail and sketch at Next Door outside of Union Station. The afternoon was buzzing with activity. Bruys captured a group of people taking in the sunny day in coats and jackets. Geneva also recorded the likeness of a roller skater taking a rest from grooving down the street. Geneva and Kevin enjoyed Next Door's delicious and colorful Orange Old Fashions which deserved a splash of colored pencil. Both Kevin and G also wanted to show the architectural detail of Union Station, from the flower motifs in the pink lavastone walls to the cast iron lion brackets holding up the building's overhang.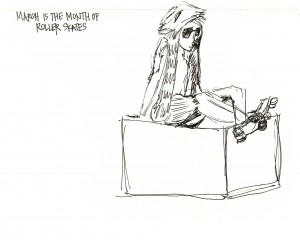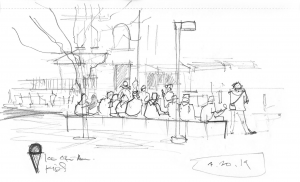 Sketches by Geneva and Bruys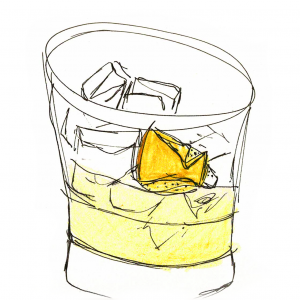 Sketch by Geneva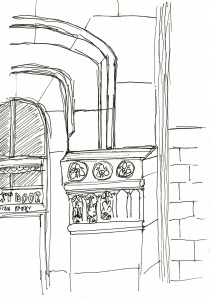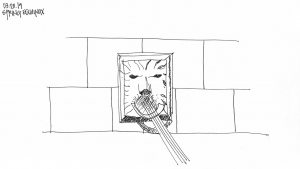 Sketches by Geneva and Kevin
Kevin returned from a 2 week vacation at his vacation home in Mexico. He spent his time drinking Margaritas, eating fresh snapper, breathing in the fresh air, and catching up with old friends. These water color paintings detail some of his favorite vistas.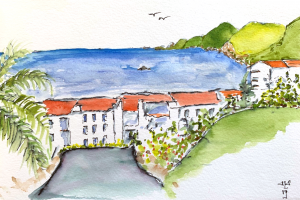 Paintings by Kevin Koernig
Colorado is a Winter Wonderland
Winter has many drawbacks — hazardous icicles, black ice, heavy winds, slow morning traffic, runny noses, hat hair — the list goes on. At SK2, our team makes the most of the season. Here are some highlights of great outings our team members have taken this winter.
Our intern Kasey, took a trip to Lake Louise in Alberta, Canada with her boyfriend to go skiing and ice skate in the great outdoors.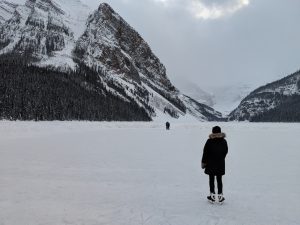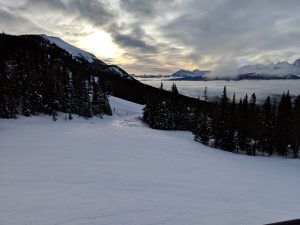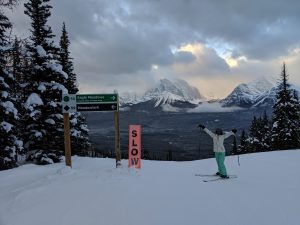 Mike, our resident mountain man, enjoyed skiing and launching himself face first into fresh powder in Winter Park, CO.
Amanda and a friend from out of town drove up to Steamboat Springs, CO to check out Strawberry Hot Springs have a nice swim in some lithium filled pools.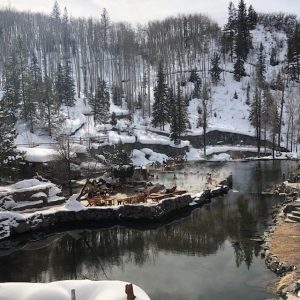 Kevin made his way out to Silverthorne, CO for business, but what a view for a business trip, am I right?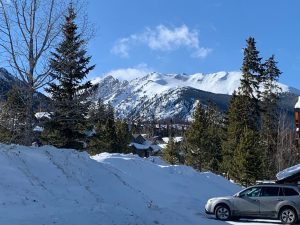 Sarah and Bruys went snowshoeing through Silverdollar Lake Trail in Georgetown, CO, stopping to admire the beautiful trees. Sarah and Bruys' cat Cheery, however, although she hasn't been on any big local trips, has been keeping warm on a heated blanket all winter.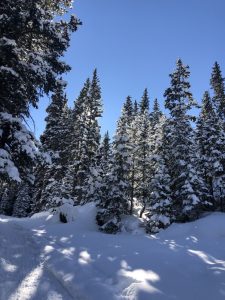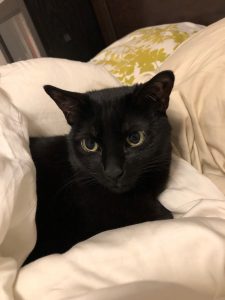 Alpine Coaster for Stanley Mine Opening Summer 2020!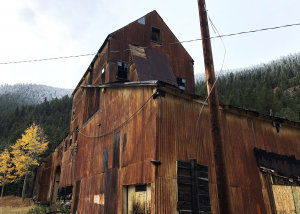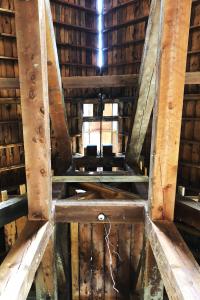 SK2 has been hard at work on Idaho Spring's Stanley Mine! The parks first opening feature and attraction will be the the alpine coaster! For the coaster, the team has designed a building to house storage for the coaster carts, a gift shop, workshop, and restrooms to support the day to day operations of this amazing ride.
Construction is anticipated to begin in March and installation should potentially begin in the following months.
Other features of the park include a children's play space designed by local artists. A blacksmith's shop with demonstrations space, additional retail. Rides including a 700′ mine drop and a zip line are also on the horizon.
A large part of the resurrection of this old mining site will be seen in the site's hoist building, a 130 year old structure that has been abandoned since the 1980s. This building will feature a double level of restaurant space as well as a beer garden.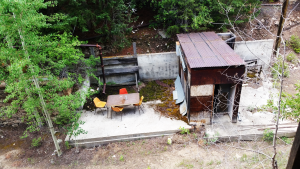 Within the next year, we will be seeing this dream turned into a reality!
December Art Back into Architecture & SK2 Welcomes Three New Employees!
ART BACK INTO ARCHITECTURE [DECEMBER EDITION]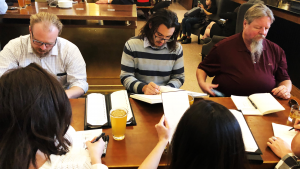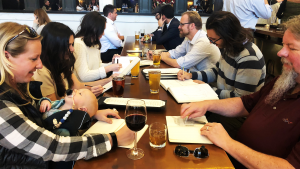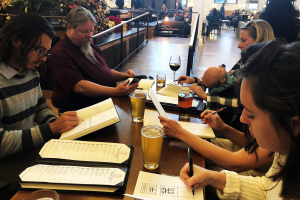 Thanks to our employees, clients, and friends for the wonderful year of exciting and fulfilling projects!
The firm celebrated the end of the year with a Christmas edition of Art Back into Architecture at Union Station. The team had a great time appreciating the festivities going on downtown and taking the time to relax as a group. This was the first ABIA for Geneva, since her return from her three month maternity leave and baby Teddy's first ABIA ever, which only seemed very mildly excited about.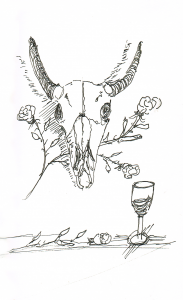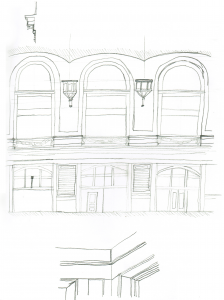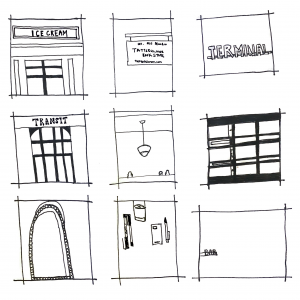 From left to right, we have sketches by Amanda, Kevin, Mike, and Kasey.
SK2 WELCOMES THREE NEW EMPLOYEES AND THE RETURN OF GENEVA FROM MATERNITY LEAVE
This winter, SK2 was proud to welcome three new employees and was happy to see Geneva back in action after her maternity leave with baby Teddy.
Our three new employees are named Kasey, Amanda, and Mike.
Kasey is a masters student attending CU Denver and working part time in the office originally from Minnesota. She has a Bachelor of Science in Architecture Studies from University of Wisconsin Milwaukee. She enjoys reading, audiobooks, podcasts and travel. Her favorite show is Portlandia and she loves all things llama.
Amanda is a full time design associate who finished her Masters in Architecture from the University at Buffalo in the spring and relocated to Denver in September. She enjoys vegan cooking and attempting hikes far past her skill level.
Mike is the newest addition to the office. He joins us after working for two years in a residential firm in Breckenridge. He needed a break from his mountain life and is excited to explore the city and practice soccer with local pick-up leagues.
All bring fun and enthusiasm to work and their projects. Welcome to the team Kasey, Amanda, and Mike!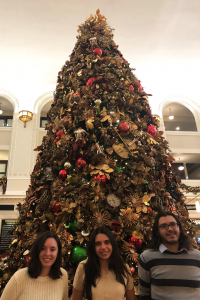 SK2 Supports a Local Cause
On October 18th, SK2 contributed for the third year to Denver's annual Warm-A-Heart showcase. This year, Warm-a-Heart choose to support Denver Health Family Crisis Center, a non-profit providing care for children escaping child abuse and neglect.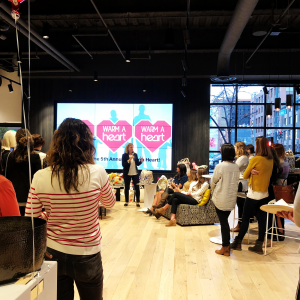 A speaker noting the impact the bags had on local children (photo by Amanda Schoene)
As part of their cause, they reached out to local designers to decorate and fill tote bags with useful and comforting items for these children. As an office, members of our team prepared a bag with items to create enjoyment and comfort.

SK2's Donation painted by Kasey, Stephanie, and Amanda (photo by Amanda Schoene)
It was filled with a blanket, toiletries, warm socks, candy, and a  journal. The office's beloved and now former designer, Stephanie, and newest designers Kasey and Amanda painted the bag with the Denver skyline and fall leaves.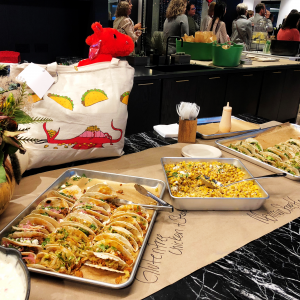 SK2's Second favorite bag next to delicious tacos (photo by Amanda Schoene)
At the event itself, Kevin, Bruce, and Amanda had a chance to enjoy all of the creative submissions as well as free tacos and cookies. Over 200 bags were contributed this year to help the cause.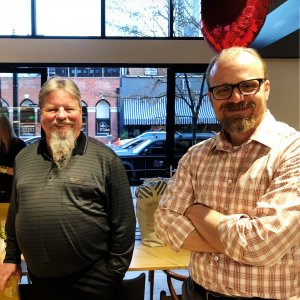 Kevin and Bruys are all smiles (photo by Amanda Schoene)